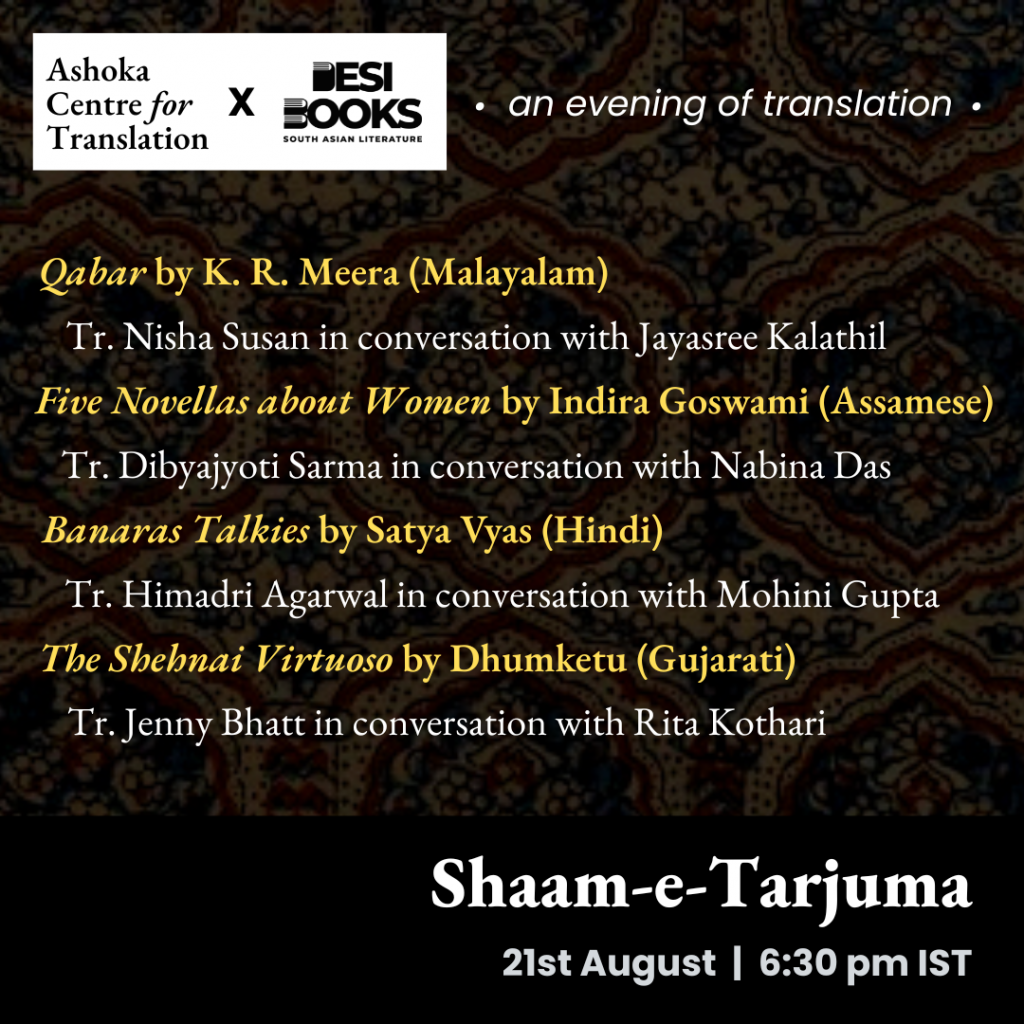 Shaam-e-Tarjuma
We collaborated with Desi Books to celebrate an evening of translation, Shaam-e-Tarjuma, which featured selected narratives across languages and followed the trajectories of their translators — linguistic, literary, and more. The evening hosted four short panels on four books, with their translators in conversation with other writer-translators from the same source languages.
This event also marked the publication of Satya Vyas' Banaras Talkies in English, translated by Ashoka alumna Himadri Agarwal and supported by the translation initiatives of the Ashoka Centre for Translation.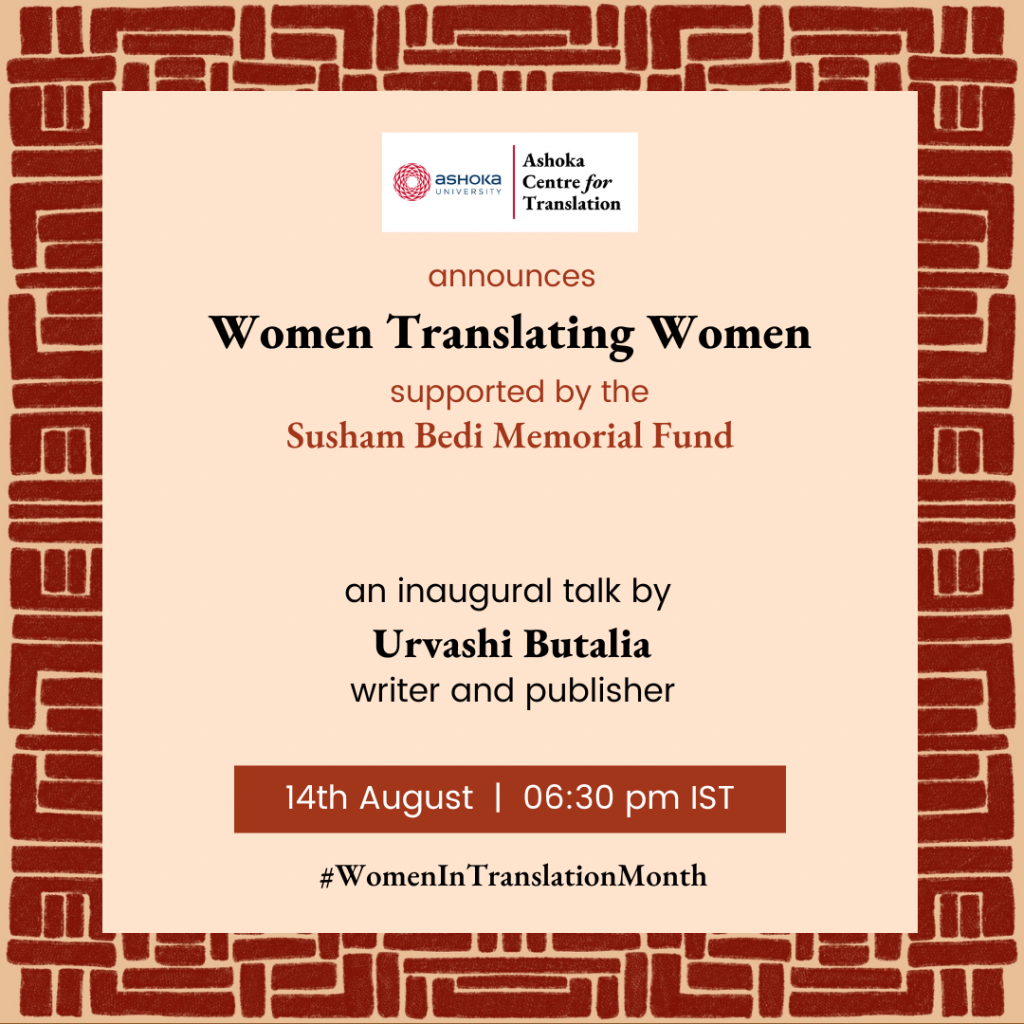 Women Translating Women: Inaugural Talk
This #WomenInTranslationMonth, we announced our project, Women Translating Women, supported by the Susham Bedi Memorial Fund, with an inaugural talk by writer and publisher Urvashi Butalia.
The author Susham Bedi writes in her autobiography, Aroh-Avroh, how readers' curiosity never lets writers' memories fade away and how writers continue to live through their works. At this event, we remembered her, her life, and her work, as Butalia reflected on the significance of translating women's narratives—then and now.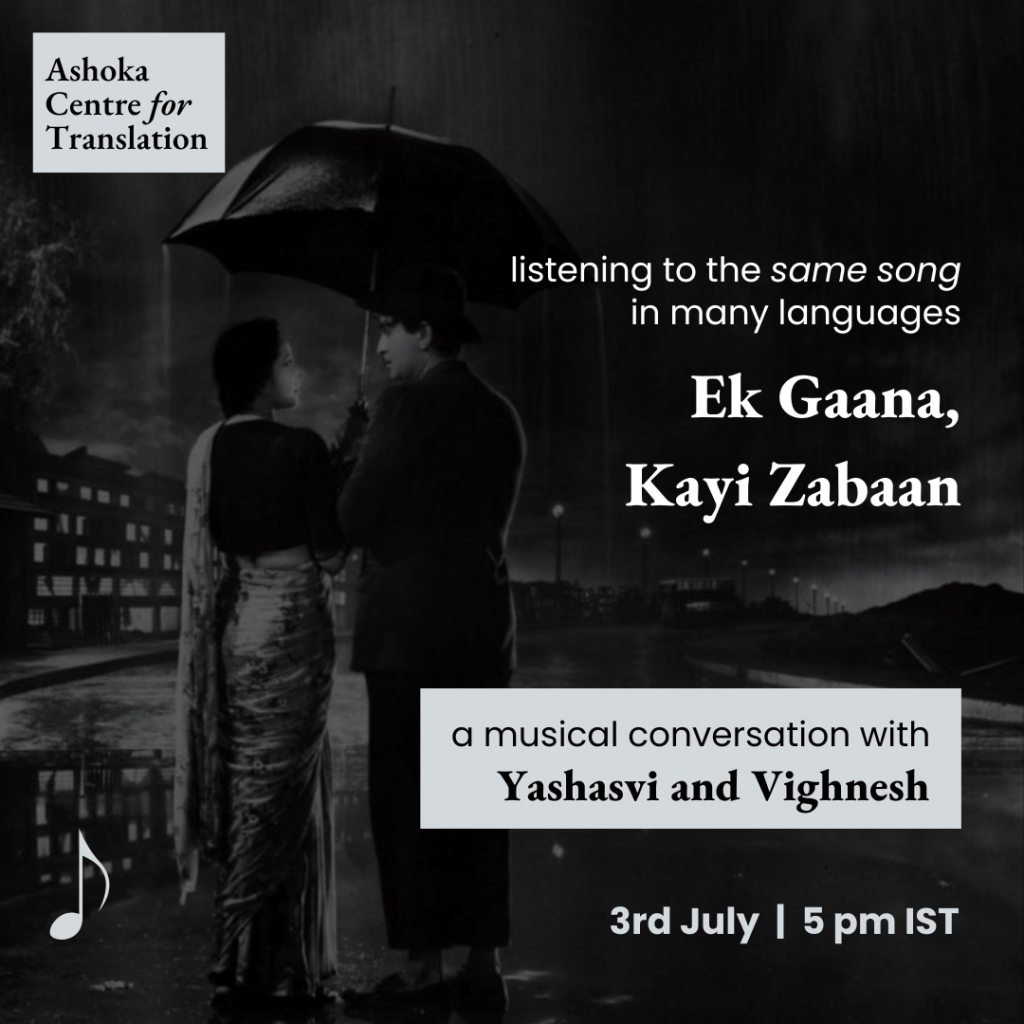 Ek Gaana, Kayi Zabaan: A Musical Conversation
Songs circulate freely, disembodied from fixed geographies or linguistic contexts. We explored the joy of listening to the "same" song in different languages. A musical conversation ensued with singer-translators Yashasvi Arunkumar and Vighnesh Hampapura, and several others who translated the Bollywood melody 'Pyaar Hua Iqraar Hua' into Bangla, Gujarati, Kannada, Tamil, and Sindhi.
Repeating these songs and the affect they conjured for us at different times brought forth how we embody words in ways myriad, musical, and multilingual.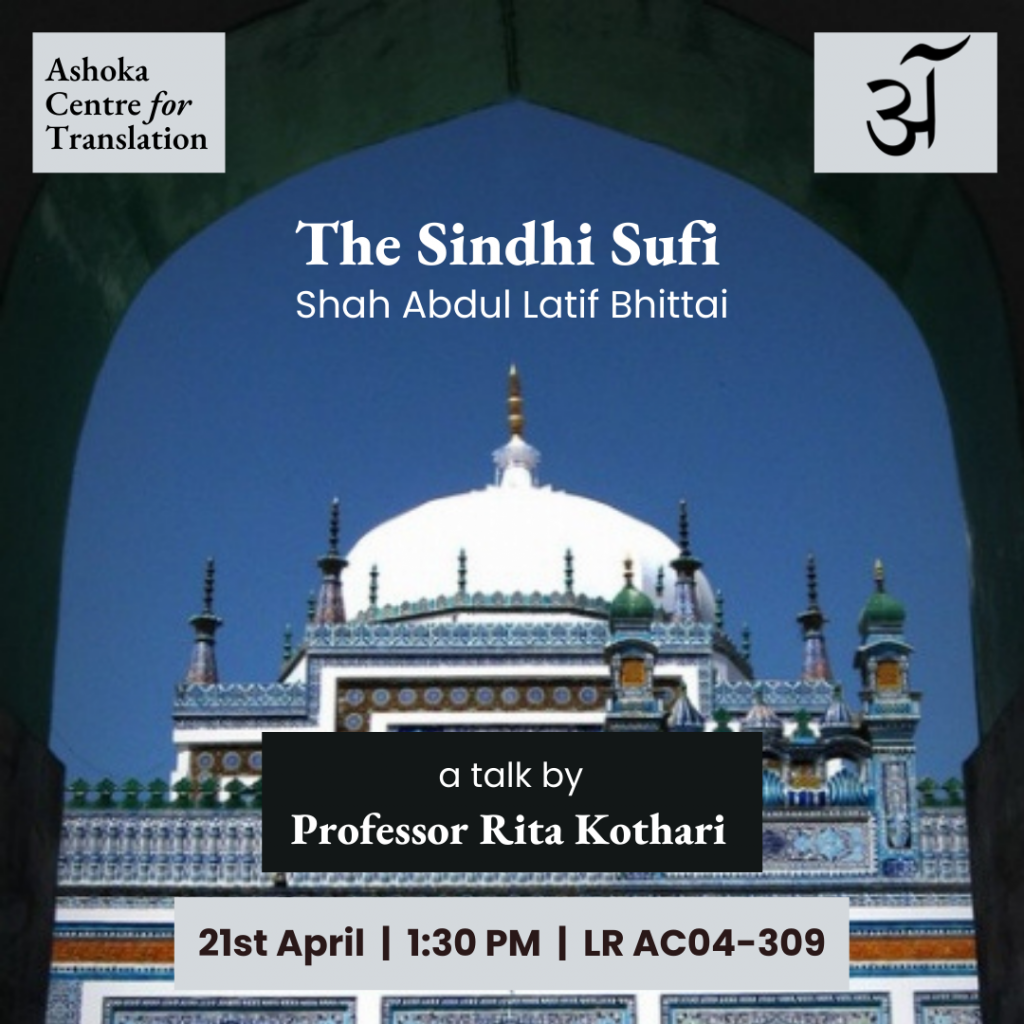 The Sindhi Sufi: Shah Abdul Latif Bhittai
Professor Rita Kothari talked about Shah Abdul Latif, the wondrous Sindhi Sufi, and his Risalo, a highly unusual document quoted by almost every Sindhi in the world — on occasions ranging from the state of nations to cattle, betrayal in love, and the soul's longing for the beloved. The talk revolved around the stories he tells of Sasui Punhu and Umar Marui.
The echo and the call – it's all the same
Unravel the mysterious speech and you'll know
They were always one; you heard them as two.
– Shah Abdul Latif (tr. Rita Kothari)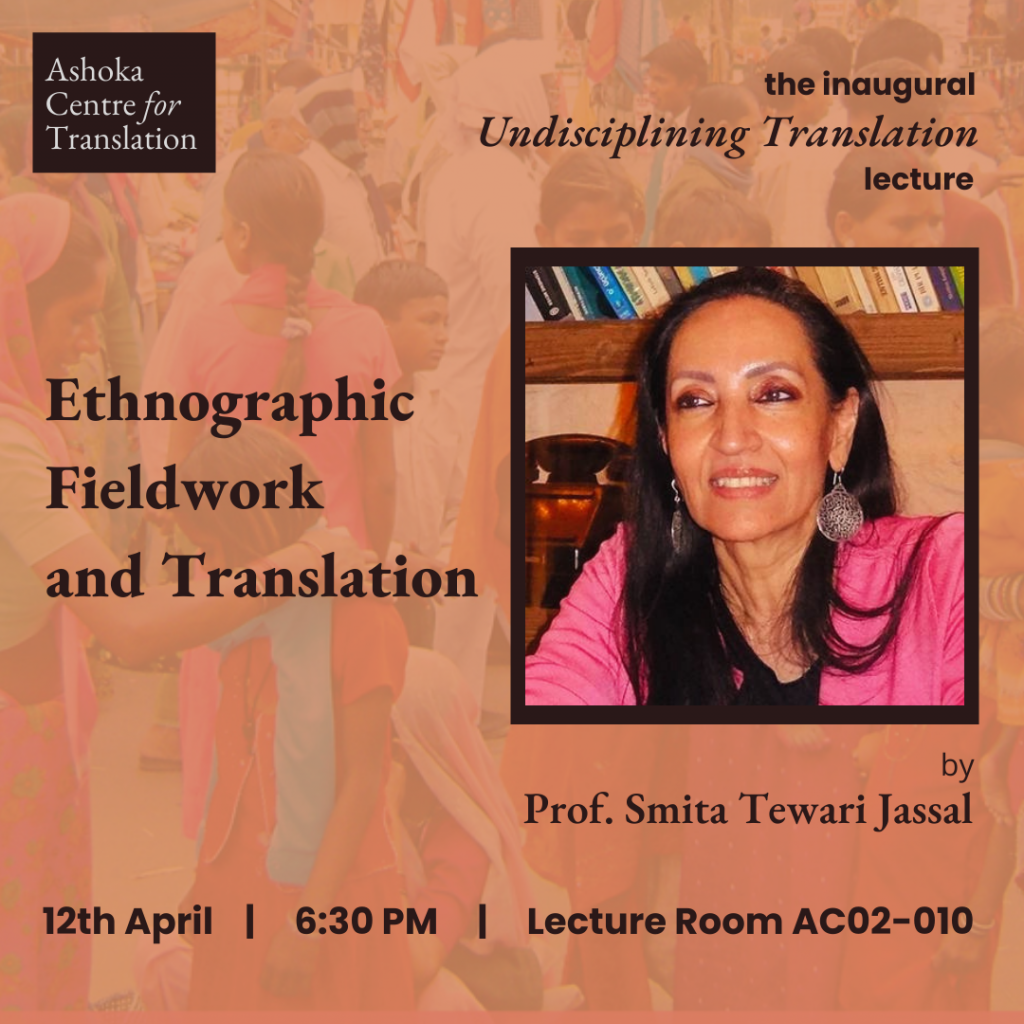 Ethnographic Fieldwork and Translation
Professor Smita Tewari Jassal drew on her experience of ethnographic fieldwork in the Bhojpuri-speaking region to reflect on how gendered worlds are produced in song. Making sense of how people articulate what is meaningful to them, she highlighted the challenges of 'translating' a culture in the process of interpreting its oral traditions.
This was the inaugural lecture in our Undisciplining Translation series. The lecture series aims to engage with translation by un-disciplining it—by investigating it across disciplines and beyond disciplining acts.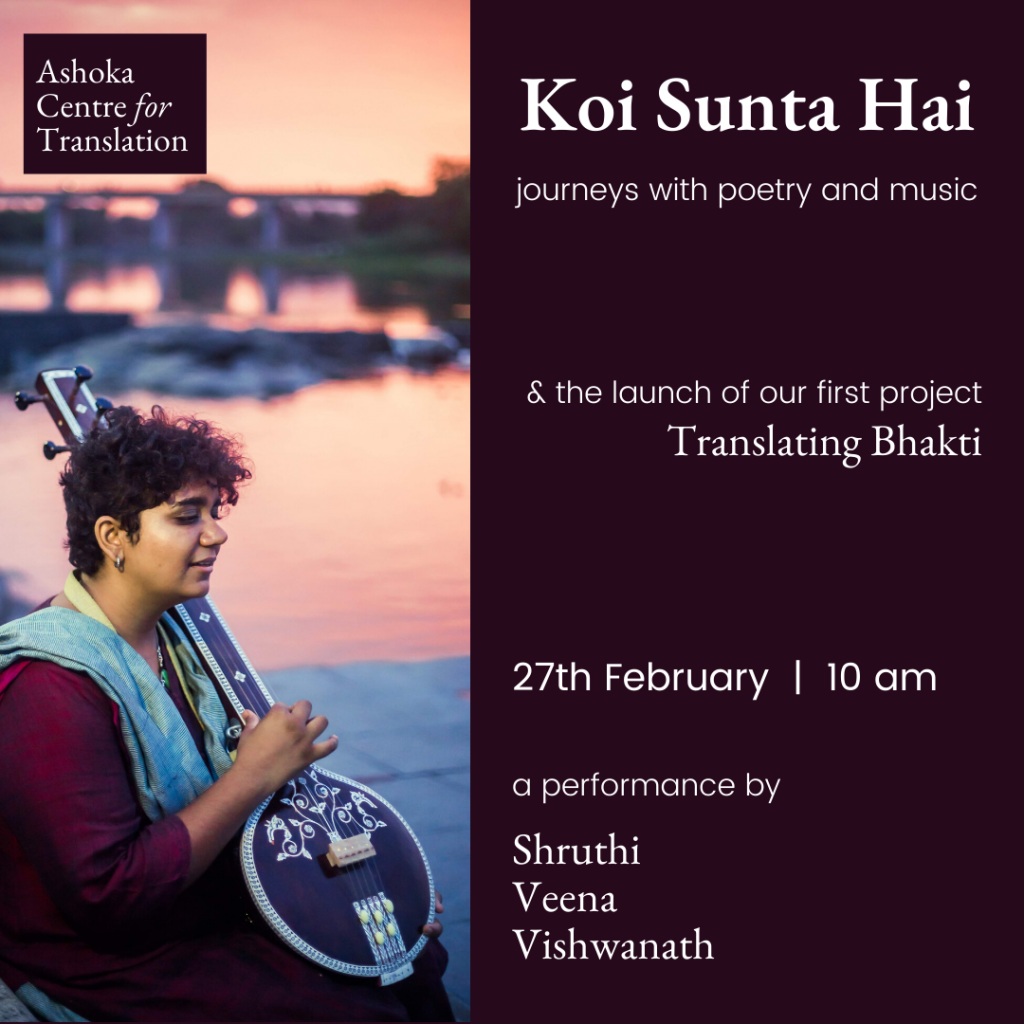 Koi Sunta Hai
To mark the formal launch of our project, Translating Bhakti, the singer, song catcher, and educator-curator Shruthi Veena Vishwanath took us on a scintillating journey with Bhakti poetry and music.
I needed to translate the poets that I sang in my own way, fully embracing my identities as a woman, and an intersectional feminist, interested in social justice and bringing out the women's voices in what I believed was the way they might have spoken them in English.
– Shruthi Veena Vishwanath, The ant swallowed the sun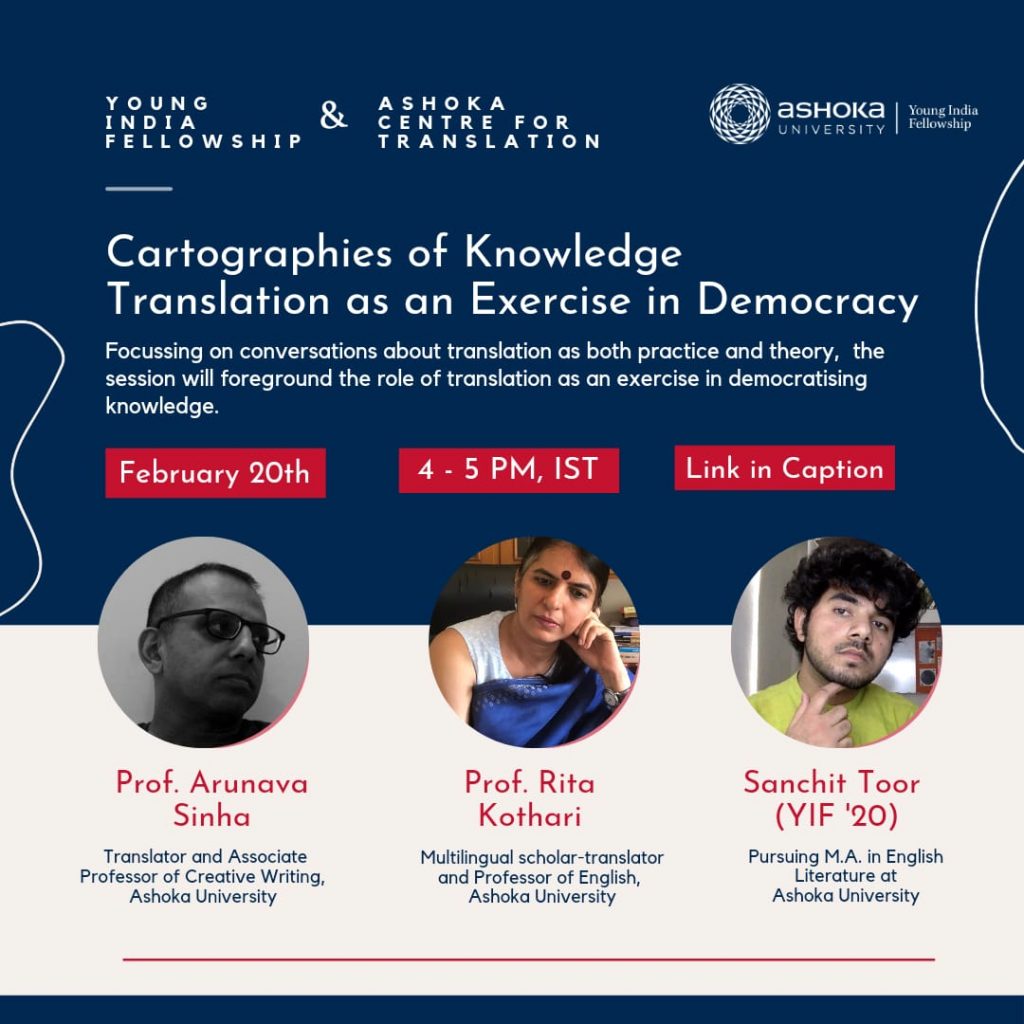 Cartographies of Knowledge
Professor Arunava Sinha and Professor Rita Kothari traversed the landscapes of literature and their life experiences, especially their coming to translation as practitioners and teachers.
This session, moderated by Sanchit Toor, brought out the role of translation as an exercise in democratizing knowledge.
Translation refuses the arrogance of being the first, the original. It says, 'I will listen to you, in your language, on your terms.' It is an ethical way of being.
– Professor Rita Kothari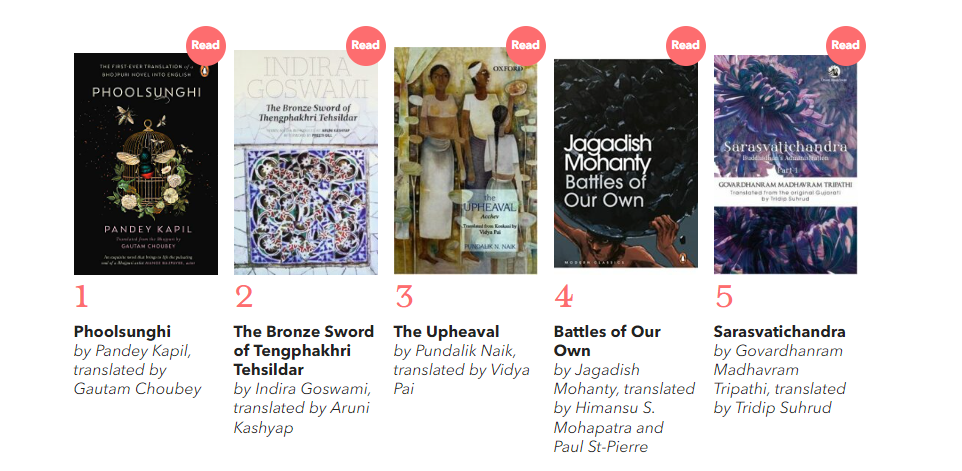 The writer and translator Jenny Bhatt selects five key works of South Asian literature, all historical novels available in English translation, that showcase the richness and diversity of the region's lesser-known languages (read more)
from FIVEBOOKS